Mount Rinjani Trekking Packages
---
Ayo Trekking accommodates the Mount Rinjani Trekking Packages with local professional guides, porters, and quality trekking equipment. We have been working with experienced trekking organizers for over 10 years. Our Rinjani trekking packages are selected from the most recommended trekking packages.
All packages are included trekking guides, hotel transfers, porters, and night accommodation in Senaru or Sembalun. We offer private and shared Rinjani trekking packages with all suitable beginners to advance levels.
Our shared packages are offered in a small groups of a maximum of 6 people. While private trek packages can go to a minimum of 2 people.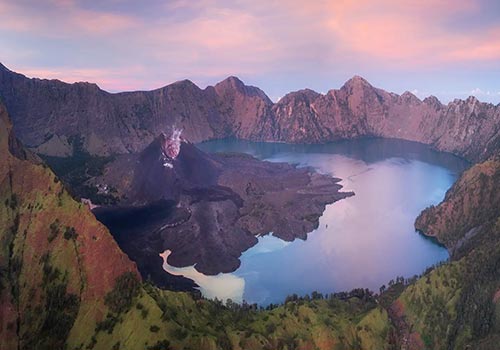 Rinjani Mountain Volcano with a height of 3.726 m has been one of the favorite active Volcanos in Indonesia. It is the second-highest mountain in Indonesia. Rinjani Mountain is located in Lombok, West Nusa Tenggara province Indonesia. It lies from North to East of Lombok.
Recommended Mount Rinjani Trekking Packages
As a trusted online booking platform, we have selected all the best trek arrangements to meet your goals. Here are the recommendations for Mount Rinjani trek packages:
2 Days 1 Night Mount Rinjani Summit Trekking
3 Days 2 Nights Rinjani Summit Trekking
The above Rinjani trekking packages are also possible to combine with Lombok day activities and fast boat transfers from Bali to Gili or Lombok.
The Best Season to Climb
The best season to do mount Rinjani trekking is from April to December. This is the dry season in Indonesia. So you can do the Rinjani trekking during these months. January to March is the rainy season in Indonesia, so you can not go trekking during these months.
The Rinjani National Park authority will send us notifications of current volcano activity and climate around the Rinjani National Park. We will inform all clients immediately if there is any news about volcano activity. The Mount Rinjani trek information will be published on our website.
Always make sure that you get the right information about the possibilities. There are probably some street sellers who sell packages for unknown reasons during the rainy season. Be careful with the offering, they normally cut down the price to get you to pay.
The Best Points to Start Your Trekking
There are two main gates to start your Rinjani trekking packages; Senaru and Sembalun Lawang. Senaru is the best starting point if you go through North Lombok. At this point, you will start climbing and you will end via Sembalun.
Sembalun Lawang is a great point and most preferred to start the trekking, especially for heading to the summit. You can access this point from North Lombok or East Lombok. The preferred way to get to this point is from North Lombok. This is the center of tourism as the Gili Islands and Senggigi look close compared to East Lombok.
Sembalun offers a spectacular view, savannah, and beautiful farming. So you will enjoy it along the way before or after trekking. Before getting to Sembalun, you will stay one night in Senaru. You are welcome to enjoy visiting the waterfalls in Senaru a day before you go climbing.
Mount Rinjani Trekking Safety
The reason we do private trekking and small is to give you better communication with the trekking guide. So your guide will always focus on you during the trekking. We also arranged for a small group of 6 people.
We also provide trekking safety equipment such as mattresses, safe slipping bags, pillows, first aid boxes, and toilet tents. Our professional drivers are ready for a safe transfer to your hotel or any drop point. We will make sure that you drop to the point where you are.
Trekking can be a little daunting, especially if you are a beginner. But don't worry, read some preparation tips for the Mount Rinjani trek before you do that. Our Trek Guide is always welcome to do everything you need during the trek. We are the only Mount Rinjani trekking company that totally works out for any packages that we offer.
Note: We don't provide any insurance coverage for all of the packages listed on this website. So you have to have your own travel insurance just in case.