Sendang Gile Waterfall
---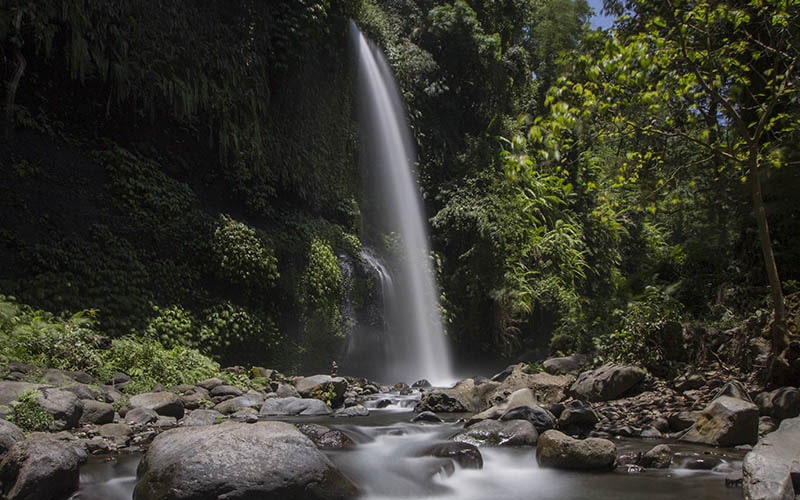 Sendang Gile Waterfall is located in Senaru Village, North Lombok Regency Indonesia. This is one of the most popular waterfalls in Lombok that laying under the foot of mount Rinjani.
Most people believe that this waterfall is coming from springs in Mount Rinjani. It is very cool and natural. The waterfall beating is continuously big, even in the dry season.
The waterfall is at 600m from sea level and the height 32 meters. This waterfall has 2 levels, with a different size.
Getting to Sendang Gile Waterfall
Sendang Gile waterfall is about 2 1/2 hour from Senggigi and approximately 2 hours from Bangsal. The access is good, you will drive along the main street from Senggigi and Bansal. If you stay in Kuta Lombok, you will need approximately 4 hours to get there.
When you arrive at Senaru village, you need to step down to the waterfall for 20 minutes. The entrance fee is 1 USD per person. There is a parking area on the side of the main road.
Here are the ways to get there:
Rent motorbike or private car in Senggigi, Kuta, or Mataram. Drive to the North Lombok via Malimbu or Baun Pusuk, both are good.
Join the Rinjani trekking tour, you will get a free visiting to this waterfall. You will do the waterfall our one day before you do the Rinjani trekking.
Accommodations and Restaurants
Accommodations and Restaurants are available at Senaru village. It is the entrance gate to the waterfall. Here you can find any type of accommodations from backpackers to the mid-range.
Restaurants are also available in Senaru, they serve western and local cuisines. Having lunch while enjoying the beautiful landscape and fresh air. It will be an amazing day out. If you want to enjoy the local foods, there are some Warung around the parking area.