Sendang Gile Waterfall
---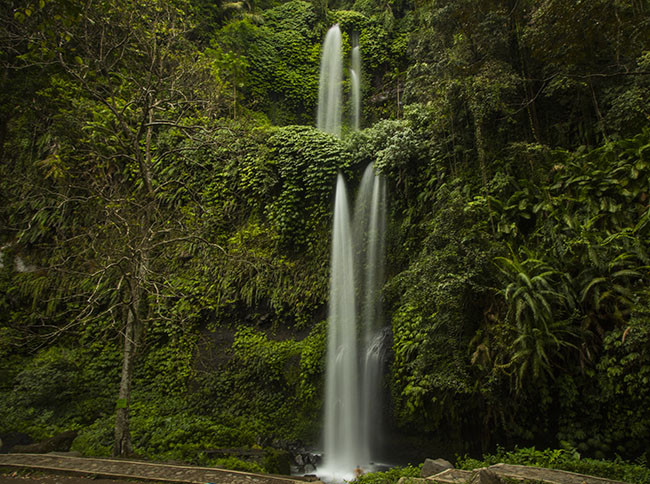 Sendang Gile Water fall is located in Senaru Village, Bayan sub district, North Lombok regency, West Nusa Tenggara. More precisely in the area of Ă¢€‹Ă¢€‹Senaru village, 2 kilometers from the village of Bayan. This attraction is located in the area of Ă¢€‹Ă¢€‹Mount Rinjani National Park. It is because of this waterfall is the entrance ascent to Mount Rinjani. Moreover, it turns out in Sendang Gile waterfall comes from springs in the Mount Rinjani very cool and natural.
Getting to Sendang Gili Water Fall
There are some ways to get to Sendang Gile Water Fall; getting on the private car from Mataram or Senggigi will take about 2 ½ hours or if you are in Gili Islands you can get on the local boat for and then getting on the private car from Bangsal or Teluk Nare, it takes about 1 ½ hours. As you are in the Senaru village you need to get down to the water fall through two hundred stairs that reach and a hollow bridge through a valley that takes about 15 minutes. Alternative trips can also be done in a way to scour the edge of the valley is rather steep and follows the irrigation canal and cross the bridge made of rattan.
The waterfall is often also called by the locals as the Stone Ko '(buffalo stone). According to local folklore, the first Spring Sendang Gile is a nymph bathing when it comes down to earth. Some think that the name comes from someone who found this waterfall indirectly while chasing a lion that went into the woods after messing up a village. The local villagers call crazy lion as Sengang Gile, however, gradually became the spring Gile pronunciation. The residents believe that bathing or washing face in the waterfall Spring Gile, will make a person a year younger than her actual age.
Waterfall elevation of 600 meters above sea level and has a height of approximately 31 meters from the river bed has two levels, the first level appear at the top of the cliff and fell to the bottom of the pool at the bottom, while the second level, where in the pool water slide down and forms a stream underneath.