Senaru Village
---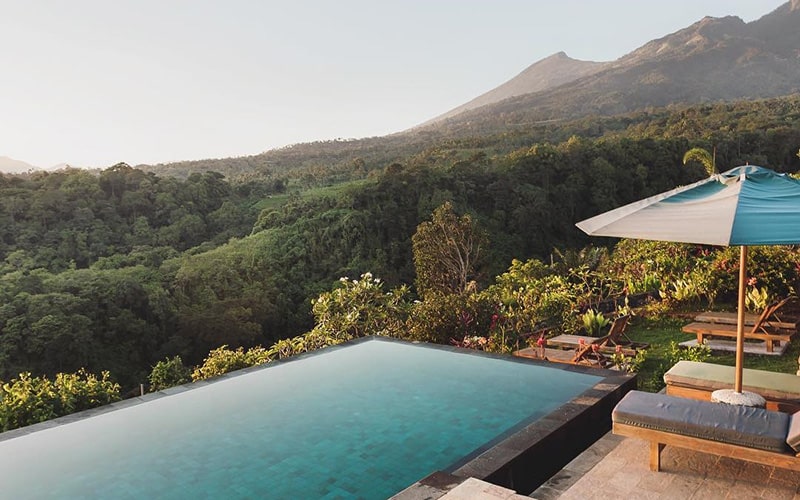 Senaru Village is a village in North Lombok regency, West Nusa Tenggara Indonesia. It is laying under the foot of mount Rinjani. Senaru is one of the main gates to start the Rinjani mountain climbing. And the village is a much use as a transit whenever you do the Rinjani trekking.
At Senaru, there is a Lombok traditional village. There are several buildings made from bamboo and reeds roof. These traditional houses are regarding the tradition of the Sasak tribe in Lombok. Sasak tribe is the main and the most dominant tribe in Lombok Island.
Senaru also offers some beautiful waterfalls, rain forest, and a beautiful landscape. There are 2 recommended waterfalls to visit; Sendang Gile and Tiu Kelep waterfall. Both waterfalls are staying close to Senaru village, you need to walk 1 to 1 1/2 hour from Senaru. Step down and walk along the rain forest, make sure you are in a good physical.
Getting to Senaru Village
Senaru village can access from 2 sides, North Lombok and East Lombok. If you stay in Senggigi, Mataram, Gili Islands, or Kuta Lombok, we recommend going via North Lombok. Otherwise, if you stay Southeast Lombok such as Ekas Bay, we recommend going via East Lombok.
Here are the ways to get to Senaru:
Rent a motorbike or car, drive for 2 1/2 hours to the North Lombok if you stay in Kuta Lombok and Senggigi. If you stay on the Gili Islands, you will need approximately 2 hours. It takes about 3 1/2 hours if you stay in the Southeast Lombok, drive via East Lombok.
If you are intending to do a Rinjani climbing, you may try to join our mount Rinjani trekking packages. There are a variety of trekking packages including a visiting to some waterfalls nearby.
Accommodations and Restaurants
Accommodations and restaurants are available, you can find them along the street. The most accommodations here are Standard types. While restaurants are also available and you can find them along the street. They provide western and local cuisines.
If you join the Rinjani trekking package, you will get free one-night accommodation. And you will also get a free visit to the waterfalls. The trekking operator is arrangement well for you. Make sure the package you book inclusive one-night accommodation in Senaru on the price.