Sembalun Village
---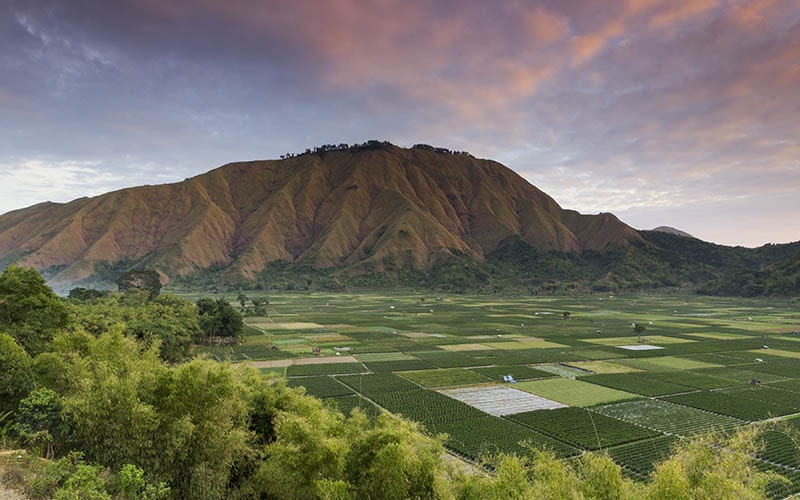 Sembalun Village is located in the East Lombok, West Nusa Tenggara Indonesia. The village area is 217.08 km2. Sembalun consit of 6 part villages; Sembalun Lawang, Sajang Village, Bilok Petung Village, Timba Gading, Sembalun Bumbung, and Sembalun Village.
There are cultivated some export crops and seeds that might not be found in other Lombok areas. You can find strawberries, apples, chocolate, oranges, and potatoes. As the agricultural tourist spots, you can pick fruits and pay at a certain rate which is definitely cheap.
Sembalun is just an hour from the center of the East Lombok government (Selong). You will be treated by beautiful scenery along the way from Selong. Fresh air and away from the busy town is the place that looks like.
The village is also the main gates to trek Rinjani Mountain. You can enter in two ways, via East Lombok or Via North Lombok. The close one to Gili Islands or Senggigi is when you want to get there via Nort Lombok.
Getting to Sembalun Village
Sembalun is also one of the main gates for mount Rinjani trekking. You can enter the village in two ways; via East Lombok and North Lombok. If you are on Gili Islands, Senggigi, Kuta Lombok, we recommend you to go from North Lombok.
You will need about 2 1/2 to 3 hours to get there from Bangsal, Mataram, or Senggigi. While if you stay in Kuta Lombok, you probably need 4 1/2 hours entry via North Lombok. Here are the ways to get there:
Rent a motorbike or private car in Senggigi or Mataram, drive to the North Lombok via Malimbu beach or Baun Pusuk.
Join the Mount Rinjani Trekking packages, you will get a free seeing around the village in the afternoon before starting the trekking.
Accommodations and Restaurants
Accommodations and Restaurants are spread around the village. The accommodations are available from backpackers to mid-range. Restaurants are also available, Western and local cuisine.
If you join the Rinjani trekking, you will get a free one-night accommodation here. You will also enjoy walking to some tourist places nearby. relax and enjoy your stay before start the trekking.