Bayan Beleq Mosque
---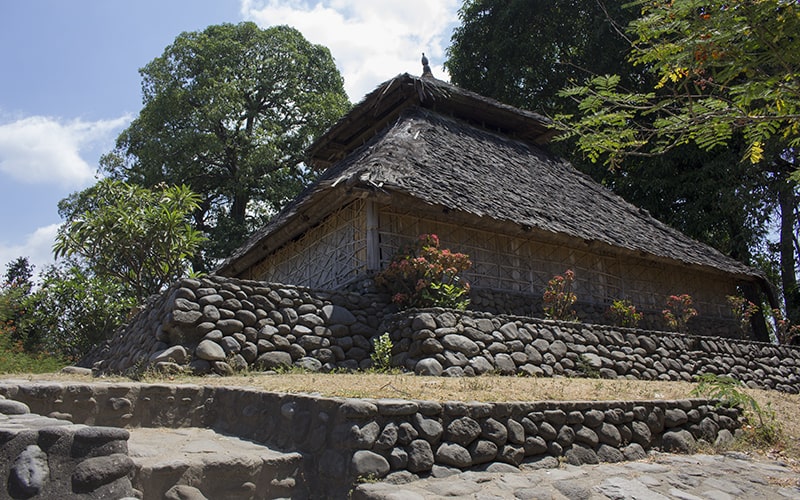 Bayan Beleq Mosque is the Muslim historical evidence In Lombok. The Mosque is decorated in unique architecture and totally made with the traditional way. This Mosque reminds the symbol of the trace. The evidence where the first time of Muslims came in Lombok.
The Bayan Beleq Mosque is located in North Lombok regency, West Nusa Tenggara Indonesia. The Mosque size is 9 X 9 meters and totally decorated with the bamboo combined with hardened clay paved. Bilhah roof is also made of bamboo and floored with stone.
Construction Bayan Old Mosque Beleq has a philosophical meaning which is composed of head, body, and legs depicting the world over. The middle world and the underworld which is unity in North Lombok people's cosmos entity.
Getting to Bayan Beleq Mosque
The Mosque is located in North Lombok, it is about 2 1/2 hours from Senggigi or Bangsal. Here are the ways to get to the Mosque:
Rent a Bike or car, drive for 2 1/2 hours to the North Lombok. If you go via the Pusuk Monkey forest, you can stop for Monkey's feeding. Otherwise, if you go via Malimbu, you will drive along the seaside. You will enjoy the sea view.
Join the Lombok day tour or Mount Rinjani trekking packages. The Mosque is just 5 minutes from the main street. So you can stop a couple of minutes.
Accommodation and Restaurants
There is no accommodations and restaurant around the area. The only possibility if you want to get close to the place is you have to stay in Senaru Village. The restaurants are also not found here. So all you need to do is stop in Senaru if you want to have lunch and just to have some drinks.
Some of the Rinjani trekking operators may please you to call on at Bayan Mosque. So you will have a bit of time to get the history and see this ancient Mosque. You can also ask your driver to stop a couple minutes.