Tiu Kelep Waterfall
---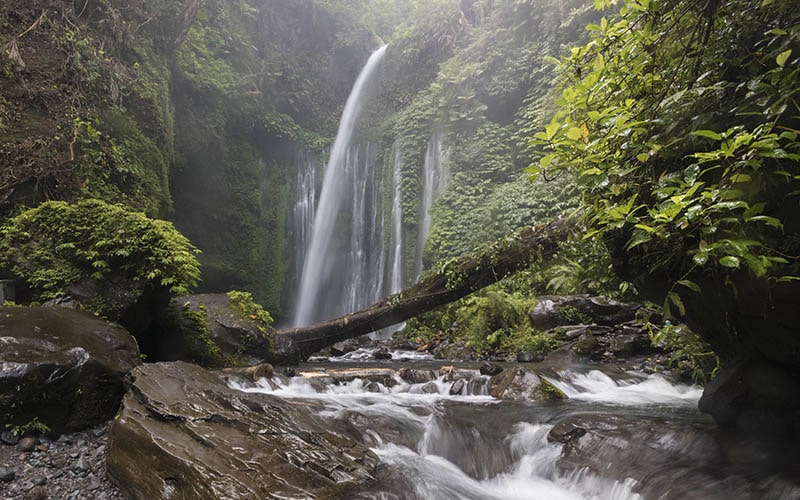 Tiu Telep Waterfall is one of the dozens of waterfalls in Lombok. The waterfall is located in the Senaru North Lombok. This is one of the famous waterfalls that lay under the foot of Mount Rinjani. You need to up the stairs and across the river, while accompanied by some hairy primates.
The infrastructure especially the track/path of the waterfall is very adequate. You should be careful when climbing the stairs. They are rather steep and walk across the bridge that in fact actually the waterway. Then cross the river that sometimes the current is very strong.
The activity you are doing here is to swim around the pond that is formed naturally by the waterfall. The height of the waterfall is about 30 meters. There jumping spots that you can use to further test the adrenaline. You can not swim just below the waterfall, because in this waterfall discharge is the very large and very heavy slide.
Getting to Tiu Kelep Waterfall
Tiu Kelep waterfall is approximately 2 1/2 hours from Mataram or Senggigi. And it is 2 hours from Bangsal harbor. If you stay on Kuta Lombok, it may take 4 hours to get to the waterfall.
Tiu Kelep is very crowded at the weekend. Try to visit on a different day to avoid the crowded. If you can not swim in the pool, you can swim in the river flow. The river flow forms several small pools that are also in the vicinity.
Here are the ways to get there:
Hire a motorbike or car in Senggigi, Bangsal (if your stay on Gili Islands), or Kuta Lombok. Drive to the North Lombok via Malimbu hill or Pusuk Monkey forest.
Join our Rinjani trekking packages, you will get a free tour to the waterfall. The tour will offer one day before you do the trekking.
Accommodations and Restaurants
The accommodations and restaurants are available in Senaru village. It is the entrance gate to visit the waterfall. There you can find a variety of accommodations, from backpackers to mid-range.
Restaurants are also available at Senaru village, they provide Western and local cuisine. If you want to do a little shopping, you can find some mini-mart around the village. Warung also available if you want to try traditional foods such as Pelecing Kangkung.