Tiu Kelep Waterfall
---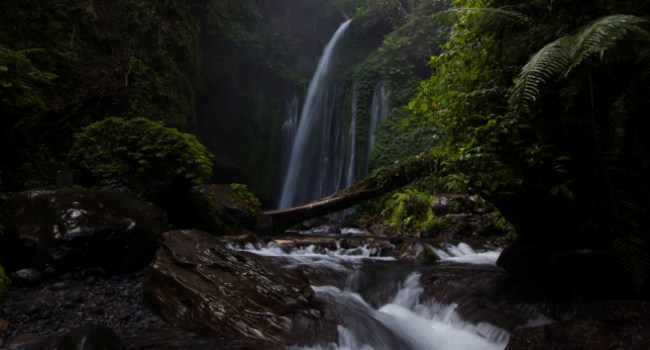 Tiu Telep Water Fall is one of dozens water falls in Lombok. Tiu Telep waterfall is located in the North Lombok, about 2 ½ hours from Mataram or Senggigi . You need to up the stairs and across the river, while accompanied by some hairy primates, an exotic waterfall in Lombok
The Infrastructure especially track / path of Tiu Kelep water fall is very adequate, you should be careful when climbing stairs is rather steep and walk across the bridge that in fact actually the waterway. Then cross the river that sometimes the current is very strong.
Activity you are doing here is to swim around the pond that is formed naturally by the fall of water from a height of about 30 meters. There jumping spot that you can use to further test the adrenaline. It's just that you can not swim just below the water fall, because in this waterfall water discharge is very large and very heavy slide.
If you visit Tiu Kelep at the weekend, ready just crowding here. Because every weekend Tiu Kelep very rmail visited by tourists. But still, if you do not have time to swim in his pool, you can swim in the river flow that forms several small pools are also in the vicinity.
Tiu Kelep admission to only 10 thousand / person for local tourists, foreign tourists to 75 thousand / person. If you want the company of a tour guide on the grounds that the information is clear and detailed, live request only at the ticket counter. Only if you use the services of a tour guide, you will spend more.