Ayo Trekking accommodates the Mount Rinjani Trekking Packages with local professional guides, porters, and quality trekking equipment. We have been working with experienced trekking organizers for over 10 years. Our Rinjani trekking packages are selected from the most recommended trekking packages.
All packages are included trekking guides, hotel transfers, porters, and night accommodation in Senaru or Sembalun. We offer private and shared Rinjani trekking packages with all suitable beginners to advance levels.
Our shared packages are offered in a small groups of a maximum of 6 people. While private trek packages can go to a minimum of 2 people.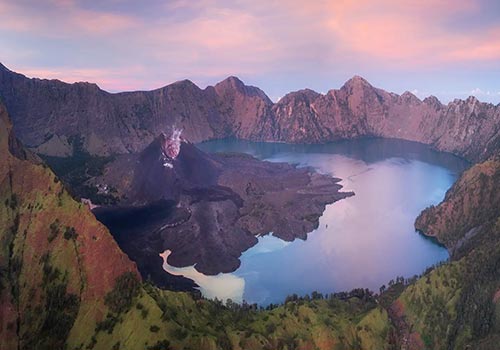 Rinjani Mountain Volcano with a height of 3.726 m has been one of the favorite active Volcanos in Indonesia. It is the second-highest mountain in Indonesia. Rinjani Mountain is located in Lombok, West Nusa Tenggara province Indonesia. It lies from North to East of Lombok.
Recommended Mount Rinjani Trekking Packages
As a trusted online booking platform, we have selected all the best trek arrangements to meet your goals. Here are the recommendations for Mount Rinjani trek packages:
2 Days 1 Night Mount Rinjani Summit Trekking
3 Days 2 Nights Rinjani Summit Trekking
The above Rinjani trekking packages are also possible to combine with Lombok day activities and fast boat transfers from Bali to Gili or Lombok.