Mount Rinjani Hiking Discounts
---
Ayotrekking.com always running special mount Rinjani hiking discounts, check availability and book for a great trekking package online with the instant confirmation and get special offers.
All the price listed are discounts with the free hotel transfers and a night accommodation in Senaru before hiking.
The discounts are offering for one year, during the times you will be happy to have your discount trekking and are welcome to get great service from our trekking operators. Not all trekking operators offer discount with the high standard service, so when you are here, should not be worry to book your trekking with Us.
In the other hands you can also have our fast boat packages with Rinjani Hiking discounts , complete your beautiful holiday with high recommended activities. The packages are inclusive with free hotel transfers in Bali, fast boat and transfers in Lombok from or to the port.
Most we offer are trekking packages with the top high light and most popular trekking packages. In advance we are going to combine trekking packages with day tours in Lombok and beyond. We will set up with the great tours around Lombok and beyond. So no need to wait, book your trekking packages and get more discounts only with Us.
Getting to Lombok
Lombok is a beautiful Island stay in the east side of Bali Island, there are many easy ways getting to Lombok, First is Flight,You can take a flight from Bali,Jakarta or anyother cities in Indonesia. Second you can get on the fast boat from Bali to Lombok, they offer daily trip from most popular ports in Bali like Padang Bai,Sanur,Serangan and Benoa. The fast boat can take you to your destination in Lombok or Gili Islands in 1 ½ to 3 hours The third, you can take ferry for 5 hours from Padang Bai and stop in Lembar Port.
Where is Rinjani Mountain?
Rinjani Mountain is located in North Lombok in West Nusa Tenggara-Indonesia. Mount Rinjani National Park is one of the ecosystems with rainforest type of mountain and savannahs.
Mount Rinjani National Park is one of the ecosystems with rainforest type of mountains and savannah.
This great volcano has been active in the last few years and becomes most popular with its crater. There are Danau Segara Anak lake and Gunung Baru Jari inside the crater.
Rinjani Hot Spring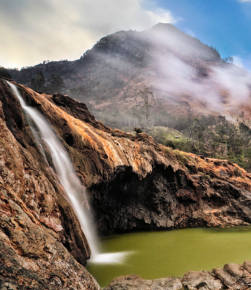 We Accept




Connect with Us on:
www.komodowisata.com
|
www.gilibestdeal.com